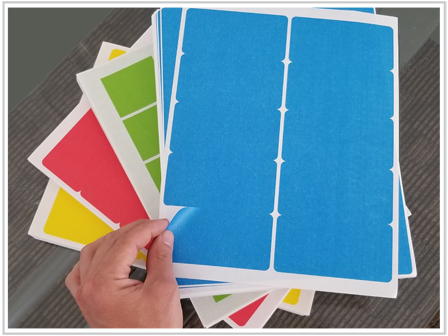 At Freezer-Labels.com, we offer our freezer sheet labels in four basic shapes, in a wide variety based on number of labels per page and material type. To learn more about our freezer labels, just click on each link below.
1. Round Corner Rectangle (LR) 
2. Square Corner Rectangle (LS)
3. Round Circle (LC)
4. Special Shape (SS)
Not surprisingly, therectangular self adhesive freezer labels have the most variety, with number of individual freezer labelsranging from one big label per page to dozens of tiny one-inchprintable freezer meal labels per page, easily prepped with standard formats.
 All our sheet labels are made to be freezer sheet labels; all consist of tough face stocks and freezer-grade adhesives made to handle intense cold, moisture, and frost. Our plain freezer paper labels can handle temperatures down to -40° F; our coated paper and plastic freezer labels are durable to -65° F. Personalized frozen labels and write on freezer labels are typically made of paper; however, freezer adhesive labels for commercial purposes, or for materials requiring colder treatment, are better when made of plastic.
 If you're wondering, "Where can I buy freezer labels?", well, wonder no more. Etiquette Systems is your best place to buy freezer labels by far. Just shoot us a request for a quote, and we'll send one tailored for your needs right away. Once you pull the trigger, we'll have your freezer labels to you ASAP via overnight mail.