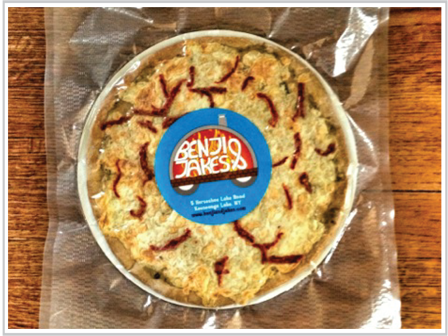 Most frozen pizza comes in boxes, so you might think there would be little if any pizza market for self adhesive freezer labels. Au contraire; not only are some pies packaged in plastic with cardboard stiffeners, they use pizza labels to advertise their brands, include the needed nutritional info and ingredients, and whatnot. Plus, if you buy the ingredients separately—pizza crust, sauce, pepperoni, and such, they definitely need specialty ingredient pizza labels. And of course, those of you who know how to label frozen food will want your own frozen printable food labels or write on freezer labels to act ash and made pizza labels for your handmade pies. So as you can see, there's a nice market for pizza labels out there—and we want to corner it.
How are we doing that? By making great quality pizza labels for great prices that no one else can beat. Plus, at Freezer Labels.com, you buy freezer labels directly from us. We make our labels in-house using our own printing press. We don't ship the order somewhere else for a third-party printer to produce. That means you get your pre-printed pizza labels faster. And since we have all the materials on hand for perfect freezer sheet labels, if you decided you want blank frozen stickers to print yourself, no problem. We can get those right out to you in the format you prefer. All you need at that point is the right frozen label templates for your frozen printable food labels, so you can print them out on your laser or inkjet printer.
Pizza labels for your frozen Italian creations, whether you're a manufacturer or a homemaker, just got a lot easier to find. Same goes for freezer bag labels, freezer bag stickers, or any other self adhesive freezer labels. When you're ready to buy freezer labels, don't hesitate to contact us with your needs. We can give you a great quote quickly and print your freezer labels right away when you give us the go-ahead.