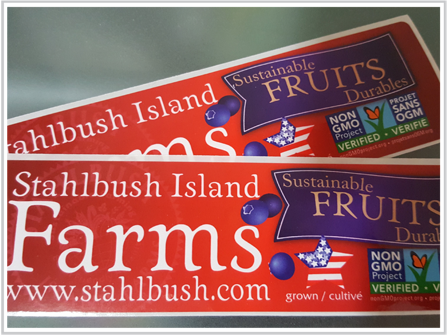 As health consciousness continues to spread, the demand for frozen fruit labels is growing. Increased interest in whole fresh fruits has already resulted in a steady demand for basic fruit labels, especially the custom printed fruit sheet labels with the standard codes that make fruits easier to identify at the check-out counter.
People have begun turning to frozen fruits more often because it's finally getting through to them that most fruits have just as many vitamins and nutrients when frozen as they do when fresh. They also last longer than fresh fruit, which goes off in just a few days. Rather than use chemicals to prolong freshness, frozen fruit producers slice, dice, cube, or otherwise prep their fruits and then flash-freeze them. The process works best when the fruits are frozen in heavy syrup or lots of sugar, something that should be noted on whatever freezer labels the producer happens to use. If you're looking to limit the carbs, it's easy enough to remove the syrup or sugar after thawing.
Now, it's unlikely you'll find delicate fruit like bananas in frozen form, but most fruits can be frozen when properly prepared. Most large-scale producers apply their custom printed frozen fruit labels before freezing, then knock the temperature down to well below zero very quickly. Needless to say, this requires some tough freezer labels indeed, made with special adhesives designed to adhere in severe cold without losing tack (stickiness). All our freezer sheet labels are made to hang tight, and also to handle the moisture and frost you'll always find in freezer environments, whether at the store or at home.
If you're a small producer or want to freeze your own home-grown or purchased fruits, no problem. We'll be happy to sell you blank frozen fruit labelsin sheet format that you can print yourself on a laser or inkjet printer. We recommend not blanching your fruit if you want to retain the nutrient content and firmness, though it may help them freeze quicker and maintain color longer. They tend to keep better if frozen individually, so we recommend doing so and including "individually frozen fruit" on yourprinted frozen fruit labels. Adding the freezing and best-by dates on the freezer label is also a good idea. Most fruits will last up to 12 months, but beware: frozen citrus fruits only keep for 3-6 months.
If you're selling the fruit, other important information to include on a frozen fruit label would be company contact information, nutrition facts, additional ingredients if any (including the syrup or sugar they're packed in), net weight, and anything required by law within your state. The "individually frozen fruit" notation is especially important here, because it draws a lot of attention.
In the market for frozen fruit labels? We're happy to help, and since freezer labels are our specialty, you can count on quality. Call us for a quote or fill out our quote form,and we'll shoot you a quote for either blank or custom printed frozen fruit labels ASAP.