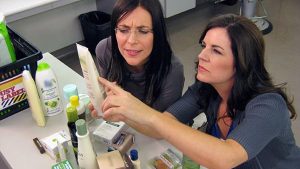 At Freezer-Labels.com, our goal is to provide you with a complete freezer label shopping experience, where you can choose from a variety of label types and materials specially matched to your cold-environment needs. We take great pride in our ability to quickly and professionally deliver on your needs—and all false modesty aside, we're very good at what we do. So why go anywhere else?
We invite you to take a look at the Who, What, When, Where, Why, and How of freezer labels and, in particular, Freezer-Labels.com. If you don't see the answer you're looking for here, just let us know, and we'll get you one. You may also find your answer on our blog. If you're already rearing to go, then click here or call us at 855.668.7453 to get a quote on your next freezer label printing job.
WHO uses freezer labels?
Are you:
A distributor or wholesaler of perishable products?
An industrial kitchen?
A cryogenic or other low-temperature laboratory?
Packaging foods and/or beverages?
Blast-freezing items?
Storing items in cold warehouses or outdoors?
Whatever the case, we can provide freezer labels to fit your specifications. All materials used in our labels are stable in both room temperature and cold environments, and have a long shelf life (a year or more). Not only are we expert at printing basic product description information, we also know the value of including government mandated information such as FDA requirements when necessary.
WHAT kind of freezer labels should you order?
Is your freezer environment dry or moist? While all our freezer labels are made specifically to handle extreme cold, some are optimized for cold, dry environments, while others can deal with moisture and frost—from the label substrate right down to the type of adhesive used.
Will the items be handled roughly, or exposed to chemicals? The type of label you need will also depend on the conditions under which the labeled items will be used. Some types of substrate/ink combinations withstand abrasion and chemical corrosion better than others.
Do you need printed or blank labels? We specialize in high quality, custom, multicolor labels printed with your logos, designs, and product information. We can also provide consecutively numbered and bar-coded labels of all kinds for asset management, inventory, and identification needs. However, while we don't supply materials and equipment for laser or inkjet printing, we can also supply blank freezer labels appropriate for both types of printers.
Sheets or rolls? We provide finished labels in sheet or roll format. Sheet labels will be provided in the standard 8.5 x 11-inch size. When ordering roll labels, we'll ask you to fill out a Copy Position Sheet specifying your preferred unwind direction, as well as whether we should print the rolls horizontally or vertically, and wound in or out. Please specify any necessary manual/machine-applied factors and core size options, so we can choose the proper mandrels for winding your label rolls.
WHEN should you order?
If you're tired of overspending on freezer labels, it's time to switch to Freezer-Labels. com—especially if you're ordering from generic suppliers who can't or won't print your freezer labels properly, or charge extra for the privilege. It's past time if your label-printing overhead starts eating up most of your packaging budget.
WHERE are your freezer labels made?
We're located in southern Nevada, giving us easy access to most of the cities in North America. Plus, we'll happily ship all over the world—and we can do it economically no matter where we ship, even to Australia, Asia, or the tip of South America. The shipping cost of bulk labels is negligible when compared to the shipping cost of the items they're labeling.
You can contact us directly by requesting a Quote here on the website. Feel free to email us with questions. If you're in the U.S. or Canada, call toll-free at 855.668.7453 (+1.702.568.7453).
WHY are freezer labels vital?
Adhesive freezer labels are tricky items to make because of their special requirements, but they're absolutely essential in a number of environments. Do you package, distribute, or warehouse perishable food or beverage products? You'll need food-grade freezer labels not just to label your products, but to meet quality control and governmental standards. An industrial kitchen can make use of either preprinted or blank labels. Cold storage warehouses, outdoor nurseries, and other cold-weather facilities need tough freezer labels resistant to abrasion, chemicals, and moisture. If you run a cryogenics lab, you may need labels capable of sticking to incredibly cold surfaces and surviving temperatures of up to 300 below zero! In all cases, your labels must be professional in appearance, tough, and above all, sticky. You can't use everyday "all temperature" labels that may just fall off when the temperature falls below freezing, or when a little frost builds up on a package.
HOW do we create your labels?
The printing business is a complex but fascinating one, and it's even more challenging when printing freezer labels. Care to learn more? Check out our blog, which we'll update regularly with new information.